In recognition of our success, we've been named a top web design agency on the Clutch 1000! This list is a comprehensive directory of B2B companies around the globe, verified by Clutch, a platform that provides ratings and reviews for businesses. We're number 802 on Clutch, one out of 62 web design agencies, and one out of 24 companies based in Austin, Texas.
We'd like to thank our customers for this award, for participating in client interviews on our behalf. Clients rated us based on our quality of service, attention to deadlines, and cost-effectiveness. In summation of those scores, we've been ranked a fantastic 4.9 out of 5 stars! We're so happy to be able to meet our customers' expectations. Please take a look at a recent review below: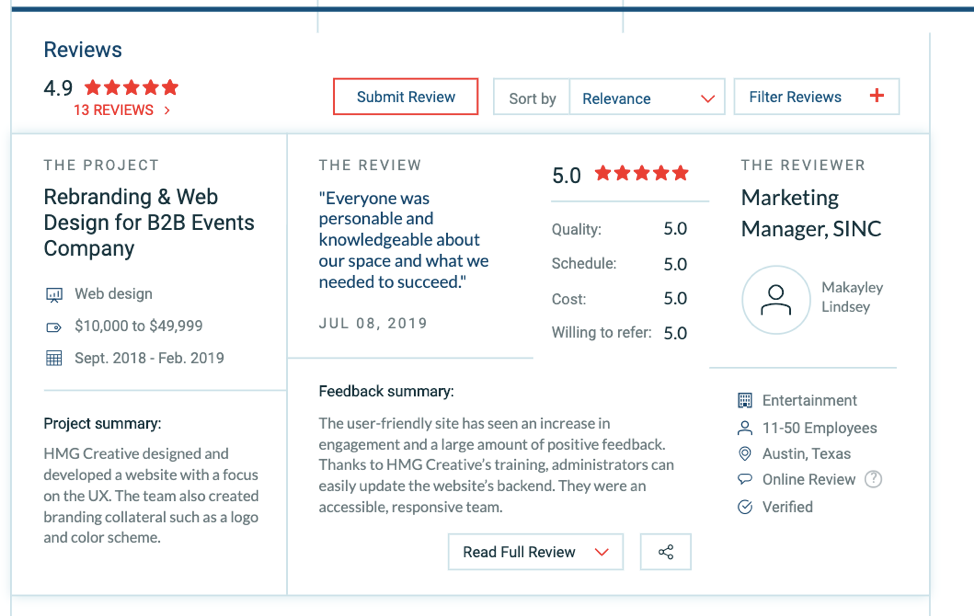 For those who might not know, Clutch is a market research firm that uses a unique rating methodology to rank leaders across service verticals. The Manifest, a B2B news and how-to site, lists HMG as a top web design agency. Visual Objects, a platform to find your next business partner through visual catalogs, lists us as a top design company as well!
Thank you once again for this immense honor! Please get in touch if you'd like to start a project with us today!