WE ASKED LIBBIE TO TELL US ABOUT HERSELF
Howdy, my name is Libbie Cramer, HMG's new intern. I'm looking forward to learning indispensable industry knowledge from the talented team at HMG.
Born and raised in Merna, Nebraska, I grew up on a farm that fostered my love for nature, animals, solitude and hard work. In 2019 my partner moved to Austin, and I was fortunate to visit often enough to fall in love with the city. Austin was an easy choice with the live music scene, outdoor activities and mild winters. Due to the pandemic, I was able to move to Austin before graduation. Since moving here, I have been maintaining my role as a Shift Lead at Merit Coffee. 
As a young UNK student, I explored various degrees from exercise science, nutrition, and even general studies. It wasn't until junior year that I knew with great certainty that the design industry was where I belonged. I have always had a great passion for art and creativity and later found graphic design the most financially supportive creative path. Throughout my time at UNK, I had the opportunity to be a three-season student-athlete in cross country and track. Running on the team kept me busy and hungry all year, training and traveling for competition. When I wasn't running, I was involved in UNK's Brand Advisory Council and worked for the university as an in-house Graphic Designer. Later in my academic career, I competed and was awarded in several local and regional AAF and AIGA competitions. UNK provided an impeccable education and the necessary tools to pursue a professional career in design.
What are you most passionate about? 
Nature wins easily, specifically being active in the great outdoors with my dog (Meadow) by my side. Nature is my life source for adventure, creativity, motivation, and mental clarity. Often a walk through the Greenbelt is all I need to produce a new creative vision. Last week, I backpacked Big Bend, and while it was a brutally physically exhausting 42-mile haul, it was mentally rejuvenating.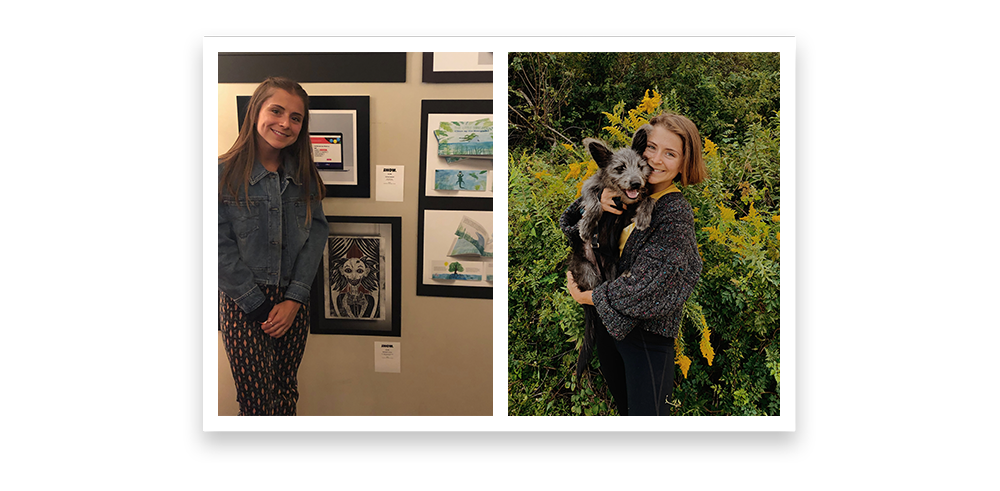 What's the best piece of professional advice you've ever received?
Nobody has it all figured out. Put in your best effort, and eventually, you'll fake it till you make it. 
What are some of your favorite spots in Austin?
A few of my favorite spots would be the Greenbelt, Barton Springs, Veracruz Tacos, and any third-wave coffee shop.
What are your professional goals for 2021?
My biggest professional goal is to begin a career design job within an established company. Another goal is to obtain as much information as possible in this position, learn everything I can from the talented team at HMG, improve upon technical skills and continue growing in my career.
Is there anything else we should know about you? 
I am a dog, coffee, and hot sauce fanatic. If you want to talk about any of these three things, I'm your gal. 
If you could go anywhere in the world where would it be and why? 
I'd love to make a backpacking trip through Italy, with many stops for classical art viewing, pasta tasting, and scenic views.