Explore Austin's Best Museums & Galleries
Nestled in the heart of the Lone Star State, the eclectic city of Austin has long been regarded as a cultural oasis, attracting artists, creatives, innovators, and history-makers from around the world. To commemorate International Museum Day, we give you HMG Creative's guide to the city's best art, science, and history museums across Austin; featuring one-of-a-kind galleries and cultural landmarks that keep Austin weird. Join us on our journey through Austin's artistic and historic gems to find your next day-trip destination.
Art and Culture Museums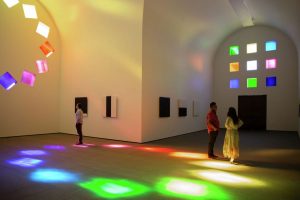 Blanton Museum of Art
200 E Martin Luther King Jr Blvd, Austin, TX 78712
Home to the most comprehensive collection of art in Central Texas, the Blanton Museum of Art is a must-see. Their permanent collection includes over 21,000 pieces spanning the Italian Renaissance, Baroque paintings, modern and contemporary art, prints and drawings, sculptures, and many American and Latin American galleries. Located on The University of Texas at Austin's campus, The Blanton Museum ranks as one of the largest university art museums in the US and has something to please everyone. From classics enthusiasts to eccentric abstract art lovers- Blanton will not disappoint. As you wander through the museum's spacious galleries, you'll encounter masterpieces from infamous artists, both past and present, spanning centuries and continents. The museum's commitment to showcasing both renowned and emerging artists ensures a constant flow of fresh and thought-provoking exhibitions as well as a cultivated sense of community, inviting visitors to engage with interactive installations, attend insightful lectures, and participate in hands-on workshops. Looking for the quintessential Austin art tour shot? Check out Ellsworth Kelly's permanent installation, a stone building entitled "Austin". The elegant building features luminous colored glass windows that create mesmerizing rainbow patterns of light, a truly picture-perfect location. 
The Contemporary Austin
Austin's only museum solely dedicated to contemporary art- The Contemporary Austin is the perfect way to spend a blissful day in ATX. With two unique locations- Laguna Gloria and the Jones Center, The Contemporary Austin is able to serve the Austin population with fun and out-of-the-box installations across the city.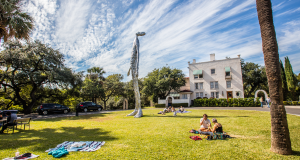 Laguna Gloria
3809 W 35th St, Austin, TX 78703
Located only 10 minutes outside the city, Laguna Gloria rests on the peaceful shores of Lake Austin and offers a perfect fusion of art, nature, and tranquility. The permanent installation is a part of The Contemporary Austin's "Museum Without Walls" initiative- which allows the public to enjoy art in the Texas outdoors. The outdoor circuit of exhibits takes you through The Betty and Edward Marcus Sculpture Park as well as many smaller one-of-a-kind installations, while inside the historic villa you'll find a diverse range of contemporary art exhibits showcasing innovative and boundary-pushing art. As you meander along the trails, you'll witness larger-than-life pieces up close and personal while harboring a newfound appreciation for outdoor art. So bring a picnic blanket and your walking shoes to enjoy this expansive 14-acre art garden in all its glory!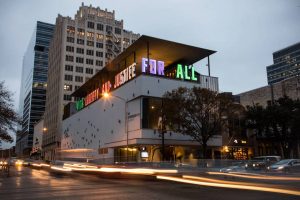 Jones Center
700 Congress Ave., Austin, TX 78701
In the heart of the city lies The Contemporary's second location, the Jones Center. A quick 10-minute walk from the capitol building, this downtown treat features an array of temporary modern art exhibits that change about 3 times a year as well as an ever-updated mural wall. The Jones Center's dynamic atmosphere invites you to explore, question, and engage with the art on a personal level, fostering a deeper connection to the creative process. Head to the Moody Rooftop for a fantastic view of the city and an up-close viewing of the 7ft tall "With Liberty and Justice For All" piece, a set of reflective letters by day that illuminate the building with rainbow hues by night.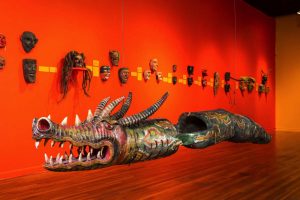 Mexic-Arte Museum
419 Congress Ave., Austin, TX 78701
In Austin, we value and celebrate our Latino community through art, music, and most of all delicious Tex-Mex. While the Mexic-Arte Museum doesn't feature any carne asada, it is home to a breathtaking amount of both traditional and modern Mexican, Latin, and Latin-American art. This dynamic museum showcases a diverse range of exhibitions, installations, and performances that beautifully capture the rich heritage and contemporary expressions of these vibrant communities. From traditional folk art to wowing contemporary pieces, the Mexic-Arte Museum offers a captivating glimpse into the depth and diversity of Mexican and Latin American artistic traditions. As you wander through its halls, you'll be immersed in a tapestry of colors, textures, and narratives that honor the past while embracing the present. Serving as Texas's official Mexican and Mexican-American Fine Art Museum, it's the perfect place to dive into rich Hispanic culture and celebrate its preservation. 
Umlauf Sculpture Garden and Museum
605 Azie Morton Rd, Austin, TX 78704
Seeking an artistic oasis that seamlessly merges nature and sculpture? Look no further than the Umlauf Sculpture Garden and Museum. Tucked away in the greenery of Zilker Park, this hidden gem of Austin pays homage to the renowned American sculptor Charles Umlauf. As you stroll through the serene garden you can observe over 130 sculptures on display ranging from lifelike to abstract, inviting you to embrace their beauty in a natural setting. The museum's commitment to fostering creativity extends beyond its permanent exhibitions, as it hosts engaging events, creative workshops, and educational programs for art lovers of all ages.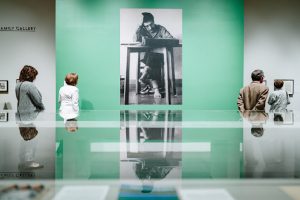 Harry Ransom Center
300 West 21st Street, Austin, Texas 78712
A visit to the Harry Ransom Center guarantees a journey into captivating literary and artistic treasures. This renowned cultural institution located on The University of Texas at Austin's campus holds an impressive collection spanning literature, photography, film, and performing arts. Inside this cultural holy grail, you will be enveloped in a world of iconic manuscripts, rare books, famous photographs, and original works of art. Where else can you view the Gutenberg Bible alongside the personal archives of Frida Kahlo? Beyond the awe-inspiring displays, the center hosts many lectures, screenings, and special events that bring the magic of literature and art to life for the community.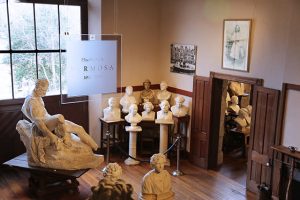 Elisabet Ney Museum
304 East 44th Street, Austin, 78751
If you're looking to step into the world of a visionary artist and dive into the life and legacy of a remarkable woman, a visit to the Elisabet Ney Museum is an absolute must. The Elisabet Ney Museum is the historic home and studio of Elisabet Ney, a radically unique German sculptor who moved to Austin in 1882. The museum preserves Ney's extraordinary sculptures, providing a rare glimpse into her creative process and the boldness with which she defied societal norms. Walking through the home it feels as though you've stumbled into an active workspace- taking a peak at Ney's clay and marble busts of famous European and Texan leaders before she returns to her work. The museum also offers a deeper understanding of Ney's indomitable spirit and her significant contributions to the art world and women's rights movements.
History Museums and Historic Sites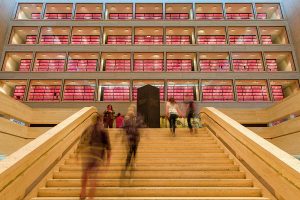 LBJ Presidential Library
2313 Red River St, Austin, TX 78705
Looking for something that mixes American history and a love for literature? Visit the Lindon Baine Johnson Library and Museum! Lose yourself in the meticulously curated exhibits that showcase key moments of our 36th President's time in office, from the civil rights movement to the space race and beyond. As you explore the informative displays, listen to audio recordings, and peruse personal artifacts, you'll gain a deeper understanding of the challenges, triumphs, and complex decisions that shaped a nation. The LBJ Library's dedication to fostering education and promoting civil discourse is shown through its engaging community events, lectures, and special exhibitions. A visit to this Austin landmark is an opportunity to witness history come alive, to reflect on the past, and to gain insights that resonate with the present.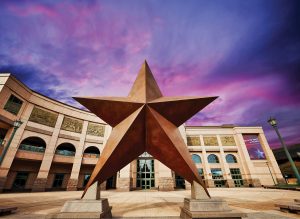 The Bullock Texas State History Museum
1800 Congress Ave., Austin, TX 78701
In Texas, we take our history seriously, and sharing our rich past with others is something every Texan can indulge in. To learn about the triumphs, struggles, and defining moments that shaped the Lone Star State, visit the Bob Bullock Texas State History Museum. Explore the diverse exhibits that showcase everything from the Age of Exploration to the struggles of the Texas Revolution and the modern-day achievements of our state. This museum is truly an engaging stop for everyone young and old, with hands-on activities for children to thought-provoking exhibits for history enthusiasts. Visit the Texas Spirit Theatre to experience Texas history in IMAX, special effects and all!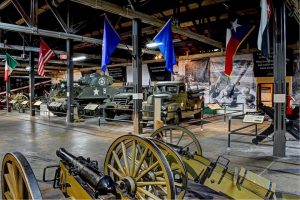 Texas Military Forces Musem
2200 West 35th St., Blg 6, Austin, TX 78703
Located at Camp Mabry, the Texas Military Forces Museum explores the history of Texas's militia and volunteer forces from 1823 to 1903, honoring the brave men and women who have defended the Lone Star State. From the early days of the Texas Revolution to modern-day conflicts, the museum showcases a remarkable collection of artifacts, exhibits, and interactive displays that offer a glimpse into the challenges and triumphs of military life. Displays include dozens of tanks, armored personnel carriers, self-propelled guns, trucks, jeeps, helicopters, jet fighters, observation aircrafts, and towed artillery pieces sure to intrigue any military technology lover. For wartime memorabilia buffs, check out the array of uniforms, weapons, equipment, film, music, photographs, and battle dioramas in the museum's permanent display. Finally, if you're looking for some live action, you can catch living history programs and battle reenactments as they take place throughout the year.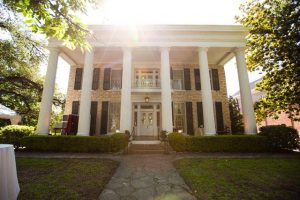 The Neill-Cochran House Museum
2310 San Gabriel St, Austin, TX 78705
Just a quick walk from UT Austin's campus lies one of the city's oldest historic residences. Built in 1855 in the Greek Revival style, the Neill-Cochran House holds a heavy but extremely important landmark; it is home to Austin's only intact slave quarters. To honor and educate the community about this site the Cochran House has undertaken the Reckoning with the Past Project: The Untold Story of Race in Austin. The project's initiative is to honor the contributions of every man, woman, and child connected to the site, bringing their lives forward as evidence of Austin's difficult as well as inspiring history. Learn about the house, Austin, and Texas history from the city's birth in 1839 up to 1930 via the ornate historically furnished spaces and a plethora of rotating art exhibitions. From history enthusiasts to the architecture obsessed, all can appreciate exploring the elegant rooms that once hosted prominent Texas figures and the history that unfolded within its walls. Once sitting on nearly 18 acres of land, The Neill-Cochran House currently lies nestled in bumbling West Campus among student-living high rises and college life, serving as a reminder of the rich, troubling history of Austin and those who truly shaped it.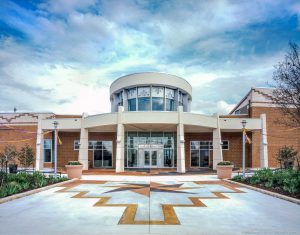 George Washington Carver Museum
1165 Angelina St., Austin, TX 78702
Housed in the former George Washington Carver Branch of the Austin Public Library, the George Washington Carver Museum celebrates the profound contributions of African American culture to US history. As you explore the museum's exhibits, you'll learn about the life and achievements of George Washington Carver, a trailblazer who revolutionized agricultural science and empowered generations through education. From his groundbreaking research on peanuts to his enduring impact on sustainable farming practices, Carver's often untold story is one of resilience and innovation that everyone can enjoy. 
Brush Square Museums
409 E 5th St., Austin, TX 78701
The Brush Square Museums include three of Austin's most beloved historic sights, The Susanna Dickinson Musem, The O. Henry Museum, and The Austin Fire Museum. In the heart of downtown, Brush Square was once a bustling cotton market and is now renowned as one of the city's oldest parks. Facing upcoming renovations in 2023, the park will be transformed into a lively gathering place for Austinites and visitors alike.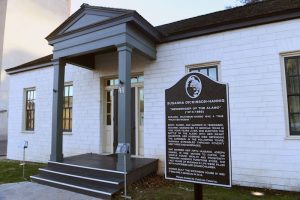 Susanna Dickinson-Hanning Museum
411 E 5th St., Austin, TX 78701
The Joseph and Susanna Dickinson-Hanning Museum's purpose is to preserve the home and legacy of one of Texas's toughest women, Battle of the Alamo survivor Susanna Dickinson. Known as the "Messenger of the Alamo", Susanna carried the news of the Alamo's fall to Sam Houston- leading to Houston's ultimate defeat of Santa Anna and the independence of the Republic of Texas. Journey into her story through Dickinson family heirlooms and a small research library in the classic rubble-rock home.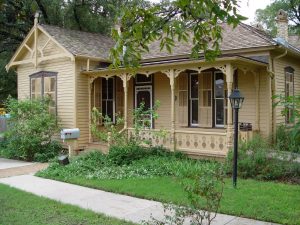 O. Henry Museum
409 E 5th St., Austin, TX 78701
The O. Henry Museum gives a look into the life of famed short story writer William Sydney Porter. See firsthand what Porter's life looked like before his controversial prison term, after which he took on the pen name O. Henry and transformed himself into a long-celebrated author. Famous for The O. Henry Museum Pun-Off World Championships,  an internationally renowned spoken word competition focused on the art of the pun, this site keeps Austin's unique history alive.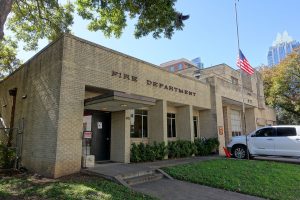 The Austin Fire Museum
Lastly, we have The Austin Fire Museum. This museum aims to uphold the significant history of the Austin Fire Department and Austin firefighters through 19th to 21st-century artifacts including uniforms, photographs, and memorabilia. Previously located in historic Central Fire Station No. 1, the museum is currently being relocated as of Spring 2023. 
Science and Nature Museums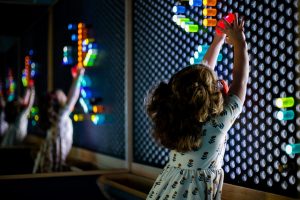 Thinkery
1830 Simond Ave, Austin, TX 78723
This imaginative children's museum sparks wonder and creativity in learners of all ages. From the moment you enter, you're greeted by a world of hands-on exhibits and immersive activities that blend science, technology, engineering, arts, and math (aka STEAM) into a thrilling unconventional experience. Let your imagination soar as you explore the tinkering lab, create masterpieces in the art area, or dive into the world of robotics and coding. For families with young children and those of us who are kids at heart, Thinkery is at the top of our list of interactive adventures in Austin.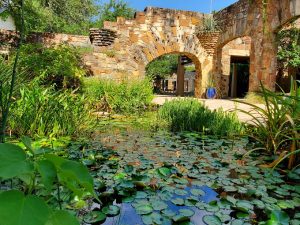 Lady Bird Johnson Wildflower Center
4801 La Crosse Ave, Austin, TX 78739 
If the LBJ Library wasn't enough history surrounding the Johnson presidency, visit the monument to the 36th first lady, the Lady Bird Johnson Wildflower Center. Founded in 1982 to protect and preserve North America's native plants and natural landscapes, The Wildflower Center's commitment to conservation and sustainability shines through its educational exhibits and informative displays, offering visitors a deeper appreciation for the importance of preserving and nurturing our natural ecosystems. Placed amidst 279 acres of sprawling gardens and meadows, this enchanting destination invites you to lose yourself in the vibrant blooms of native wildflowers and plant life. Explore the winding pathways, breathe in the fragrant air, and marvel at the colorful flowers that paint the landscape.
The Texas Memorial Museum
2400 Trinity St, Austin, TX 78705
Set to reopen in Fall 2023 with dazzling renovations, the Texas Memorial Museum is an important destination for education and exploration on The University of Texas at Austin campus. A one-stop shop for all things natural history, the museum includes a Hall of Geology and Paleontology featuring everything from meteorites to dinosaur fossils, The Hall of Texas Wildlife which shows native fauna of Texas, and The Great Hall which displays the University's most prized rare gems and minerals. Dive deeper into Texas's prehistoric age by exploring the extraordinary fossils from across the state- made up of dinos like the Texas Pterosaur and the remains of Ice Age mammals. An all-encompassing natural science experience for young and old alike, make sure to stop by and appreciate the new exhibits, programs, and stories in the Fall. 
Museums Keeping Austin Weird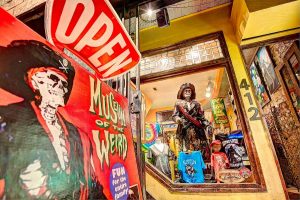 Museum of the Weird
412 E 6th St, Austin, TX 78701
Located on 6th Street, the Museum of the Weird is one of Austin's most bizarre and popular attractions. This one-of-a-kind museum takes you on a captivating journey into the realms of the strange, the paranormal, and the unexplained. Featuring everything from fascinating exhibits of oddities and curiosities to jaw-dropping displays of supernatural artifacts, the museum offers an intriguing experience that will leave you questioning the boundaries of reality. This is a place where skeptics become believers and people of all ages can enjoy all things strange!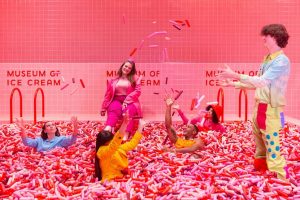 Museum of Ice Cream
11506 Century Oaks Terrace #128, Austin, TX 78758
Rediscover the kid in you at the Museum of Ice Cream! This location is by far the most Instagrammble on our list, but it isn't just a place to get the perfect shot. Admittance to the museum scores you unlimited ice cream and sweet treats throughout the experience, 12 multi-sensory installations for you to make your way through and learn about the history of ice cream, events and games hosted by energetic guides, entrance into the animal cookie carnival, and a dive into the world-famous sprinkle pool! Nourish your inner child with the joy of uninhibited playtime in this wonderland of activities while indulging in some specialty adult drinks. Fun for young and old, the Museum of Ice Cream is meant to be a safe space for human connection and learning through play, so grab a ticket for some frosty fun!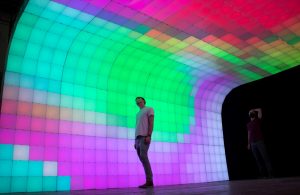 Wonderspaces
1205 Sheldon Cove #2A, Austin, TX 78753
This traveling art show has taken up a permanent residence in Northeast Austin and we couldn't be happier that Wonderspaces is here to stay. A truly massive and immersive experience, this space holds 12 installments from boundary-pushing artists around the world. Rotating exhibits throughout the year, Wonderpsaces brings visual experiences to the Austin Community that would otherwise only be accessible through festivals and prestigious art fairs. Here you can wander through the mesmerizing "Submergence" installation of cascading twinkling lights, play with color in the "Body Paint" interactive experience, and take the coolest mirror pictures ever all in one place!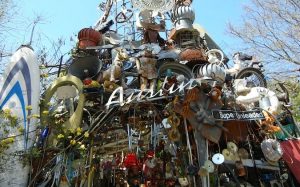 Cathedral of Junk
4422 Lareina Dr, Austin, TX 78745
A true testament to Austin culture, the Cathedral of Junk has been forming in Vince Hannemann's backyard since 1988 when he started building it simply "because it was kinda cool". Nearly unseen from the roadside, the sprawling structure contains an estimated 60 tons of junk. Everything from TVs to toilets to circuit boards, bottles, car bumpers, and general unidentifiable objects are included in the clubhouse- mainly from donations. Although it may seem cramped, upon entrance the space opens up into multiple rooms with staircases made of who knows what taking you to different levels of the playful sanctuary. There's truly no way to be bored while weaving through a tower of every item imaginable, and all are welcome in this truly unique temple. Visits can be set up upon request and donations are appreciated.  
Austin Museum of Popular Culture (AUSPop)
6416 N Lamar Blvd, Austin, TX 78752
This nonprofit organization is a true pillar of the Austin community, dedicated to collecting, preserving, and exhibiting art and memorabilia that reflects Austin's contributions to popular culture worldwide- especially in the live music sphere. Displaying primarily vintage posters and live music ephemera from the 1960s through the present day, AUSPop is devoted to enriching our growing and changing community with the local music history that runs so deep in Austin's roots. With everything from vinyl to murals to hair from famous rockers on display, there's always something new to discover with each visit. Honor the culture that's made Austin the Live Music Capital of the World by paying this amazing organization a visit.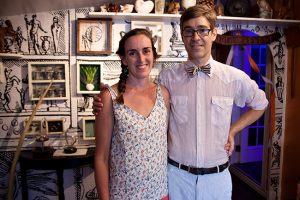 Museum of Natural & Artificial Ephemerata
1808 Singleton Ave, Austin, TX 78702
Uniquely odd, the Museum of Natural& Artificial Ephemerata is a hodge podge of collectible items that draw you in immediately. The museum's mission is to preserve endangered modes of collection, serve as a venue for the public to share their strange objects and stories, and educate all on the history of collection. As one of the few remaining in-home, family-run museums in America it's truly a treat for the Austin community to experience such a special place. Some exhibits in their impermanent collection include The Snowglobe Collection, Urban Phantasmagoria, The Celebrity Collection, an entire wing dedicated to sleep, and The Bulk Collection. Check them out for a truly unforgettable experience.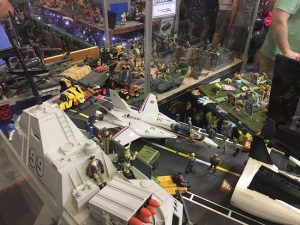 Texas Toy Museum
314 1/2 Congress Ave., Austin, TX 78701
Vintage toy enthusiasts, arcade game lovers, and comic book collectors find their haven at the Texas Toy Museum. This extensive collection of collectibles features action figures, dolls, arcade games, comic books, unique prototypes, and about every toy you can think of ranging from the early 20th century to the golden age of toys- the 1980s. Admittance to the museum includes free play on all the arcade games including Pac-Man, Donkey Kong, Space Invaders, Mortal Combat, and even The Oregon Trail. Kids of today and 80s babies alike can all enjoy a totally tubular time at this Austin oddity.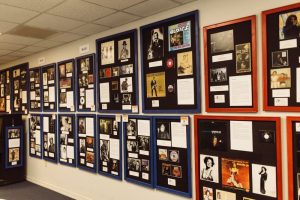 Texas Music Museum
Marvin C. Griffin Building, 1009 E 11th St, Austin, TX 78702
The Texas Music Museum is a treasury containing a rare historical collection of artifacts of all kinds from the musicians who made Austin the Live Music Capital of the World. Entering the museum you will be greeted with a plethora of artifacts, documents, and reference material surrounding the diverse traditions of Texas music. A local nonprofit since 1985, TMM is dedicated to keeping the history of Texas music alive for young and old generations to enjoy. 
Local Galleries
Women & Their Work
1311 E Cesar Chavez St, Austin, TX 78702
A longstanding staple of the art community, Women & Their Work is a nonprofit visual and performing arts organization located in Central Austin that serves as a catalyst for bold ideas from female artists in Texas and beyond. For more than 40 years, this gallery has brought groundbreaking art to Austin and given women a jumping point to share their exhibitions, performances, and viewpoints with a wide audience. Surround yourself with the pioneering spirit and general excellence that Women & Their Work presents through this nationally recognized artistic hub and gallery.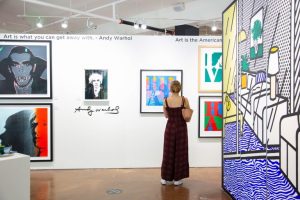 West Chelsea Contemporary
1009 W 6th St Suite 120, Austin, TX 78703
From local Austin artists to international creators, West Chelsea Contemporary offers museum-quality exhibitions free to the Austin community. Their display of artists from all stages in their careers features influential pieces of pop art, street graffiti, and contemporary works that inspire conversation. Their impressive exhibitions feature big names in the industry like Salvador Dali, Banksy, and Yayoi Kusama as well as Austin artists on the rise. For a world-renowned experience in an intimate setting, visit WCC and get lost in the diversity of creation.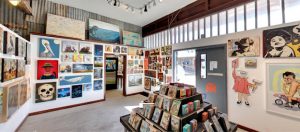 Austin Art Garage
2200 S Lamar Blvd UNIT J, Austin, TX 78704
A truly equitable space, Austin Art Garage was created to offer artists and art lovers from all socio-economic backgrounds an opportunity to invest in their community. With its ever-changing collection, the gallery offers a fresh and dynamic experience with each visit, allowing you to discover new artists and styles that resonate with your personal taste. Step into this lively and eclectic tin-roofed building and browse the loaded walls for local gems. Find your new favorite artist early on in their career and start your art collection journey here!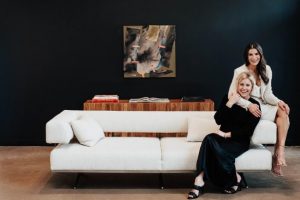 Vaughn Art Gallery
2307 Thornton Rd Suite 112, Austin, TX 78704
Conceived as a space to give emerging and mid-career artists a platform to grow their independent art business and curate fringe pieces for art collectors, Vaughn is near and dear to HMG's heart. As business neighbors and personal friends of the gallery, we see them as pioneers in the community and even feature many pieces from their collection in our own office. If you're looking for an approachable gallery and agency showcasing diverse works from artists across the country, pay the ladies at Vaughn a visit!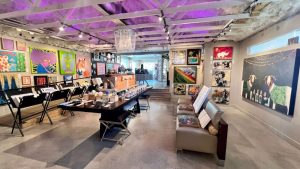 Art For The People Gallery
1711 S 1st St, Austin, TX 78704
Now this is a gallery that just screams by and for Austin! Art For The People Gallery is a self-proclaimed "laid-back" independent art gallery providing the public with a wide range of works from over 120 local artists. Serving the Austin community since 2015, AFTP focuses on facilitating the creative journey of artists from budding creators to full-fledged artistic entrepreneurs. This gallery prides itself on showcasing art in all its forms, whether it be traditional art, jewelry, decor, bath products, greeting cards, original writing, fashion, or even food. Stop by to peruse Austin's most unique local offerings!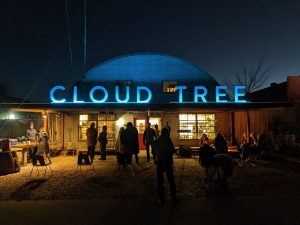 Cloud Tree Studios & Gallery
3411 East 5th St., Austin, TX 78702
Founded by an artist/furniture maker and serving as a gallery and studio space, Cloud Tree is the definition of creating the space of your dreams. Featuring a highly curated set of exhibitions, this station of creativity operates on a mission to not only showcase fantastic pieces but to provide an accessible venue for performances and community events of all kinds. Stop by to shop everything from one-of-a-kind jewelry to wood and resin creations.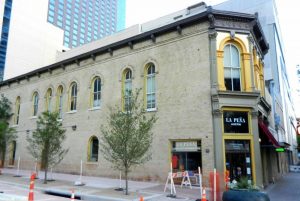 La Peña
227 Congress Ave., Austin, TX 78701
This dynamic cultural center serves as a hub for expression, community, and celebration. For over 20 years La Peña has displayed the works of new and established artists from near and far. From live music performances and dance showcases to art exhibitions and poetry readings, La Peña offers a diverse range of cultural experiences that transport you to the heart of Latin America. Immerse yourself in the rhythmic beats of salsa, cumbia, and mariachi music, or be captivated by the powerful storytelling of spoken word performances. A visit to La Peña promises a soul-stirring experience that celebrates the beauty and diversity of Latin art and heritage.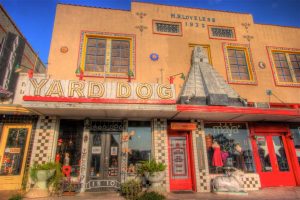 Yard Dog
916 Springdale Rd, Bldg 3-104, Austin, TX 78702
There's truly no gallery in Austin as eclectic as Yard Dog. With roots in folk art from the Deep South, Yard Dog's edgy name and welcoming atmosphere reflect Southern hospitality and alternative vibes. From whimsical sculptures and vibrant paintings to intricate folk art and imaginative mixed media pieces, Yard Dog Gallery offers a diverse range of artistic expressions that reflect the individuality and ingenuity of the artists. The gallery's commitment to supporting local and regional talent shines through in its carefully curated exhibitions, creating a space where fledgling artists can thrive and established artists can share their uniquely recognizable styles. Seasoned collectors, lovers of the unconventional, and seekers of the strange, come one come all to Yard Dog!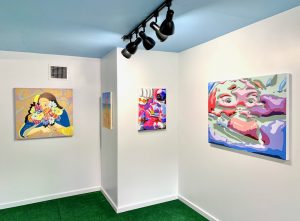 Martha's Contemporary
4115 Guadalupe St, Austin, TX 78751
Established in 2018 and located in Hyde Park, Martha's intimate and innovative art space is committed to creating curated exhibitions that challenge traditional notions of art. From abstract paintings to immersive installations and experimental multimedia creations, Martha's Contemporary showcases a diverse range of artistic expressions from artists across the country. Catch solo exhibitions from their collective of core program artists, group shows and special projects across artistic disciplines, and community engagement projects.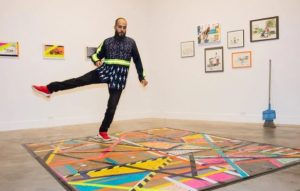 grayDUCK Gallery
2213 E Cesar Chavez St, Austin, TX 78702
Located in art-energized East Austin, grayDUCK Gallery strives to exhibit the work of exceptional artists in a welcoming space for viewers and creators alike. Each exhibition at grayDUCK Gallery tells a unique story, inviting you to engage with the artist's perspective and place yourself in their creative journey. The gallery's commitment to supporting emerging and underrepresented artists creates an inclusive space where fresh voices can be heard and celebrated. Visit their sleek space for laid-back exhibitions and inspiring artist talks!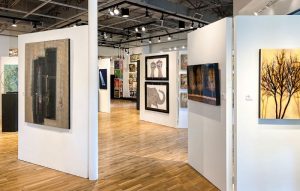 Ao5 Gallery
10000 Research Blvd Ste 118, Austin, TX 78759
Serving as a contemporary art gallery and custom frame shop since 1998, this gallery offers a diverse range of artistic expressions from cutting-edge Austin artists to international names. The gallery's warm and welcoming atmosphere invites visitors to engage with the art, providing a platform for dialogue and fostering a sense of community while you browse everything from striking paintings and sculptures to mesmerizing mixed media and photography. Whether you need a piece framed or you've arrived simply to take in the art, Ao5 Gallery's captivating space will reignite your passion for all things contemporary.
Happy International Museum Day!
No matter which museum or gallery you visit, celebrate Austin's rich culture today and every day through our amazing educational spaces! For more lists delving into the best of Austin, check out our blog.